We believe in family first and building a future for our children with a sustainable business that we love. Creating runs through our blood.
Jessica is an interior designer turned maker and the founder behind Mod North and Co. 'Mod' for offering gorgeous modern boho agate items and 'North' because it's where she is originally from, the Midwest, in Wisconsin.
After pursuing a 13 year rewarding career as an Interior Designer, Jessica opened her first Etsy shop selling vintage home decor and furnishings. Coming upon an old vintage agate clock gave her the idea to create a more modern and contemporary version. In 2016 the very first agate desk clocks were born and put out for the world to enjoy. Over 3,500 Mod Clocks are in their forever homes today!
Jessica lives with her husband and five young children in the lake country area of Oconomowoc, WI. They recently welcomed their fifth child this past October of 2019.


M O D  A G A T E  C L O C K S
Each clock is handmade to order using best in class materials and components sourced from Brazil and the US. Agates are ethically sourced with fair trade practices to help stimulate the local economy.
Drawing on her design background, Jessica, implements many of the approaches for designing a space to designing her pieces. Extra thought and care goes into how the agate slab sits on the powder coated base for a visually appealing aesthetic.
Then, she constructs the timepiece with the quietest mechanism around and gorgeous brass and gold accents. Each clock is a little work of art, a delightful gift or a way to treat yourself and dress up a nightstand or desk.
We all need to get the time, so why not have an elegant statement piece that will last a lifetime!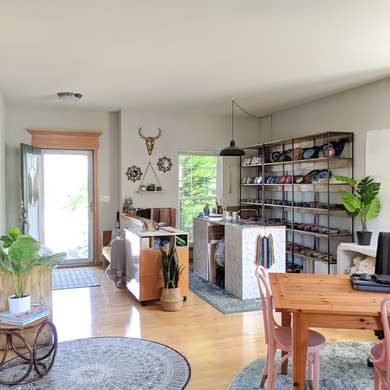 YOU GUESSED IT, WORKING ON A CLOCK WHILE 8 MONTHS PREGNANT WITH BABY NUMBER FIVE :)
N E W S
We are excited to announce that we recently became a vendor partner with Anthropologie!! They now carry our ORIGINAL Agate Desk Clocks! We are very proud of this great accomplishment!! 
See our Mod Agate clocks at Anthropologie here!